i-mop XL
The fast, flexible floor scrubber dryer
from $8,909NZ
The i-mop XL solves the problems of traditional floor cleaning systems by combining the flexibility of a mop with the power and speed of industrial scrubber dryers.
Book a demo
What is the
i-mop XL?
The i-mop XL is a heavy-duty auto scrubber that cleans floors faster, easier and with better results than any traditional mop. Available in Basic, Plus, and Pro models, i-mop XL is ideal for small to medium commercial spaces.

Almost double the cleaning power of conventional scrubbers
With a 46 cm scrub deck, the i-mop XL is perfect for small to medium spaces such as retail outlets, smaller office areas and around the fixtures of bathrooms. You have over 350 RPM and 22.5 kg of brush pressure in your hands to clean efficiently and thoroughly.

Contract cleaner? Supercharge your cleaning with the i-mop XL's capacity to clean over 1,300 m2 (14,000 sq. ft.) per hour — 10x faster than conventional mopping.
Built For Efficiency
Switch quickly to keep cleaning
Switch between chemicals in a matter of seconds by clicking on a different solution tank. Add the quick exchange i-power battery system to keep you moving.
Cleaning power unleashed
No more wasting time looking for power outlets and no trailing cables to cause hazards. The cordless i-mop XL improves health and safety in multiple ways.
Travel & clean anywhere
This heavy-duty auto scrubber weighs only 18.5 kg (empty, and without battery). With a low profile deck of only 7 cm, you can clean around and underneath objects, just like a mop.
Refill and empty, fast and easy
The removable tanks and inbuilt filling hose allow you to refill at any water source without returning to a dedicated chemical station. Turn on the in-built eco water-saving mode for even more efficiency.
Designed for your wellbeing and a healthier planet
Options to limit noise and vibration keeps cleaners safe from longer-term occupational risks. The i-mop XL is softer on the earth, needing fewer chemicals and less water than most traditional floor cleaning approaches.
Cloud-based fleet management platform
i-link® is the new cloud-based platform for all your tools, machines and compliances. All the i-team PRO machines will have a small module located inside them, already integrated with the i-link cloud. This module will send usage information, battery levels, and even the location of the machines to the platform every day.
Find the right
i-mop XL model for you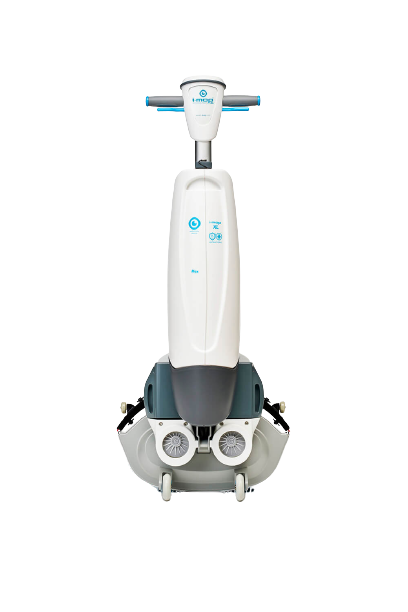 i-mop xl Basic
i-mop xl Plus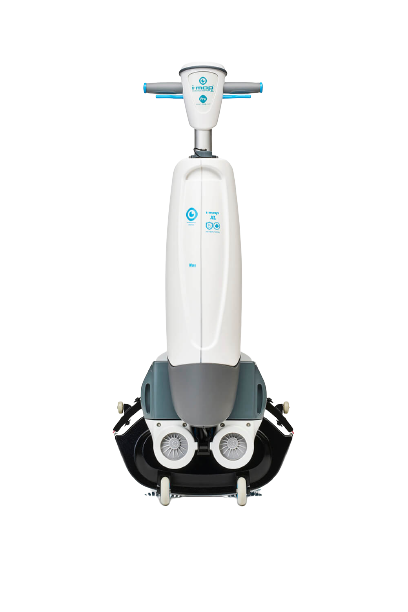 i-mop xl Pro
| | | | |
| --- | --- | --- | --- |
| | i-mop xl Basic | i-mop xl Plus | i-mop xl Pro |
| | | | |
| | | | |
| | | | |
| | | | |
| | | | |
| | | | |
| Electrophoresis anti-corrosion coating | | | |
| | | | |
| | | | |
| | | | |
| | | | |
| | | | |
| | | | |
| Antibacterial recovery tank | | | |
| | | | |
Customisable Options
Additional batteries
With two sets of batteries, your i-mop will never need to take a nap. The i-mop xl runs on easily changed i-power batteries, with an optional second set of batteries giving it the capability to run 24/7 with a single machine.
Colour coded tanks
Switch solutions fast with additional colour-coded tanks to suit your application - such as antibacterial solutions for bathrooms to chemicals for high-grease kitchen floors.
Brush & Pad Options
Choose from a wide range of pads and brushes to get the best result on your floor, from soft to aggressive bristles and even brushes for outside floor scrubbing.
i-dose
Keep cleaning without walking back to the cleaners' storeroom for detergent. The i-dose pod design delivers efficiency and ecologically conscious cleaning.
Specifications and Downloads
Technical Specifications
Applications
Hard floor types (porcelain tiles, natural stone, timber, vinyl, non-slip floors)
Theoretical Performance
Up to 1800m² ph
Practical Performance
1000-1300m² ph
Size Machine (l x w x h)
50 x 38 x120cm
Weight Without Batteries
18.5kg
Material
PP, aluminium alloy
Power Source
i-power 9, 14 or 20 batteries
Run Time
60-70min with i-power 9, 90-100min with i-power 14 & 140min with i-power 20
Charge Time (Standard Charger)
5-6hours for i-power 9, 7-8hours for i-power 14 & 120min for i-power 20
Charge Time (Super Charger)
60-70min for i-power 9, 90-100min for i-power 14 & 120min for i-power 20
Product Downloads
Included Accessories
Batteries
2 x i-power 9 batteries
Charger
i-charge 2 standard charger
Soft blue brushes (set 2)
Light duty cleaning for timber and delicate floors
i-link
Free 36 months subscription on all Pro machines
Customisable Add Ons
Brushes
Different brushes for different floor types
Pads
A range of pads for different cleaning requirements
Pad drives
Use with i-mop pads
Batteries & Chargers
Choose between the i-power 9,14 & 20 batteries and i-charge 2 & 9 chargers
Brush lockers
HACCP color coded brush lockers allows for segregation of brushes & tanks for different areas
Storage options
Choose between the i-store, i-wall and i-stand
Sgueegee rubbers
Choose between Linatex or Primothane Oil Resistant squeegee rubbers
Splash guards
Splash guards for the i-mop XL
Color-coded water tank caps
HACCP color-coded caps replace the standard clean water tank caps
Scrub brackets
Lift kit for squeegee for deep wet scrubbing & stripping
Wheels
Choose between castor and heavy duty stainless steel wheels
i-dose
Combine ecologically conscious cleaning detergents with an easy-to-use dose pod design
View Accessories Brochure
i-mop xl

Resources & Maintenance

From daily use tips to troubleshooting and maintenance tutorials watch these videos that explain all facets using the i-mop XL.

Resources & Mainteannce
i-mop XL

Frequently asked questions
What is the life of the batteries?
On average, the i-mop's battery packs are rated with a lifespan of 1,500 charge cycles. This can be higher or lower depending on a few factors that influence the health of the cells inside the lithium-ion pack.
While batteries have become extremely efficient in recent years, the chemical makeup of lithium-ion batteries is still prone to gradually breaking down over time. As an example, the more you use and charge your battery, the more it will start to lose its ability to hold an electrical charge.
There are a few things you can do to increase the lifespan of your i-mop battery which includes avoiding drastic temperature changes and recharging the battery after every use
What chemicals should I use?
The i-mop has been designed to work with a wide range of cleaning solutions, meaning you can tackle several cleaning tasks that require both acid and alkaline-based cleaning agents, as well as neutral cleaners for more sensitive tasks. We suggest the following:
Stick to chemicals between 3-11 on the pH scale
Use low-foaming chemicals to avoid sticky residue on your floors
Ensure the tank is dosed with the correct chemical-to-water ratio
Check with the floor manufacturer's guidelines for specific cleaning advice
Do not use solvents
Rinse through with clean water after using harsh chemicals

One of the best ways to streamline the cleaning process with your i-mop is with the help of our plant-based i-dose cleaning pod system. The i-dose cleaning pods contain an eco-friendly, biodegradable cleaning solution that is dosed perfect for the i-mop's solution tank.
What is the warranty cover
Commercial Warranty:
The i-mop XL floor scrubber machine is packaged with a 24-month commercial warranty from the date of purchase. Register your warranty here.
Consumer Warranty:
When you're buying the i-mop XL for home-use, it comes with a 5-year warranty on the drive motor, vacuum motor & machine chassis/body. It also has a 3-year warranty on the battery.
What floors can I use the i-mop XL on?
The i-mop XL is effective at cleaning a wide range of floor surfaces, including:
Vinyl & Lino
Tiles
Slates
Terracotta tiles
Smooth concrete
Marble
Cork
Granite
Travertine
Ceramic and Porcelain tiles
Limestone
Epoxy non-slip floors
Rubbe
What maintenance is required?
We recommend regular maintenance of your i-mop XL to keep it in optimal working order. This includes maintenance on a daily and weekly basis.
What are the common wear items?
A well-maintained i-mop will give years of trouble-free use. And fortunately, maintenance is easy. Effective maintenance involves regular cleaning and checking as some parts will wear out and require periodic replacement.
Items that may require regular replacement include brushes, squeegee rubbers, castor wheels and squeegee washers (i-mop XL/XXL version only).
Featured Case Study
How i-mops are transforming
cleaning and safety

in aged-care homes
In this Q&A, Estia Health's Head of Hospitality & Lifestyle Justin Wilshaw discusses the impact of COVID-19 on aged-care cleaning and why the i-mop has been a gamechanger for the business.