i-mop
A cleaner tomorrow
starts with i-mop.
This powerful i-mop industrial floor scrubber-dryer is revolutionsing the way Aussies and Kiwis clean. Enjoy commercial floor cleaning with upright agility and no messy cables.
Why do pro cleaners love the i-mop?
See how the i-mop is revolutionising commercial floor cleaning for homes, offices and commercial kitchens, to hospitals, stadiums and factory floors.

How much could you
save by switching to i-mop?
Save on chemicals, wages and a whole lot of worry about OH&S. Calculate the savings now.

Yearly Savings
from $5895 NZ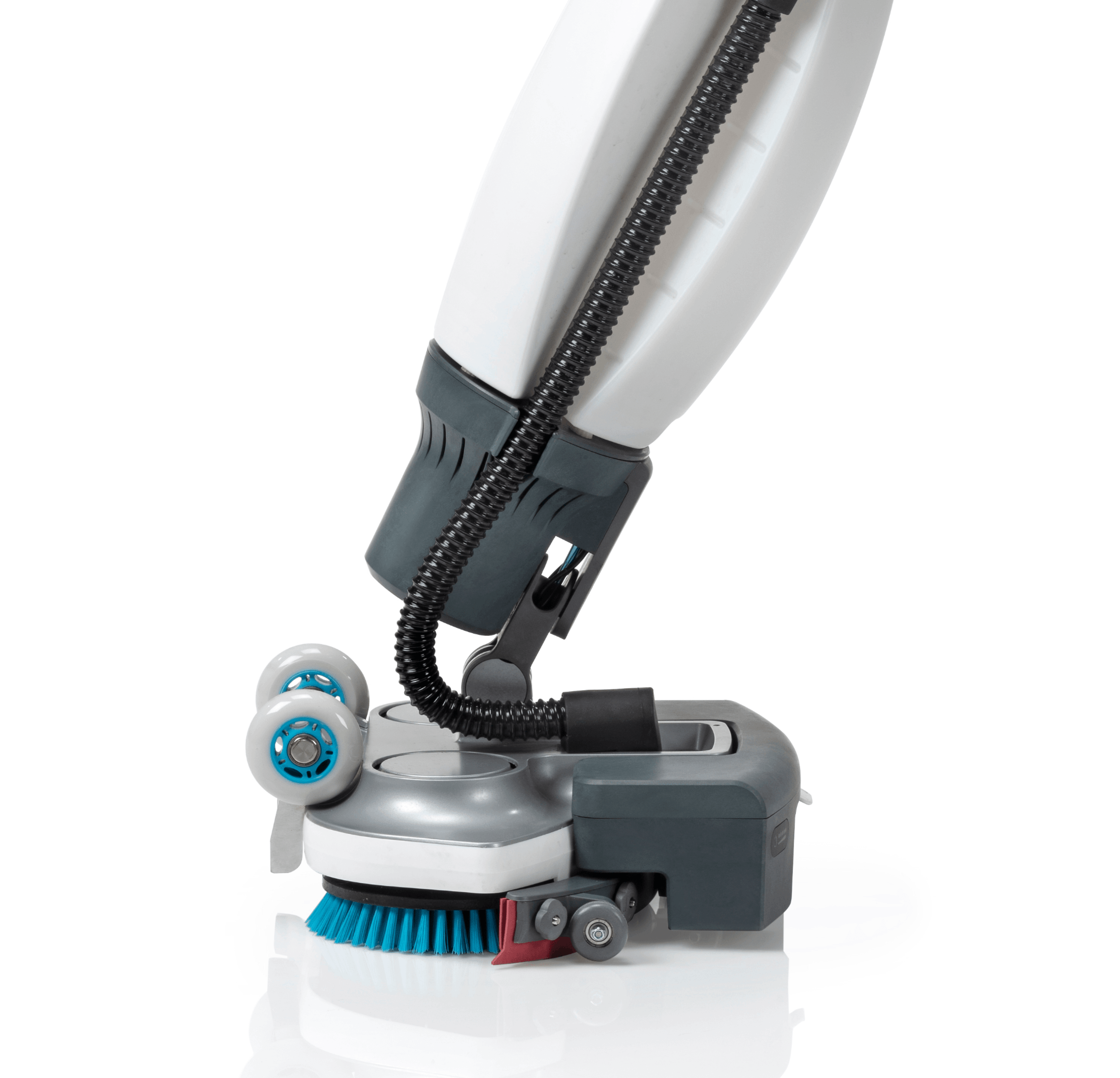 i-mop lite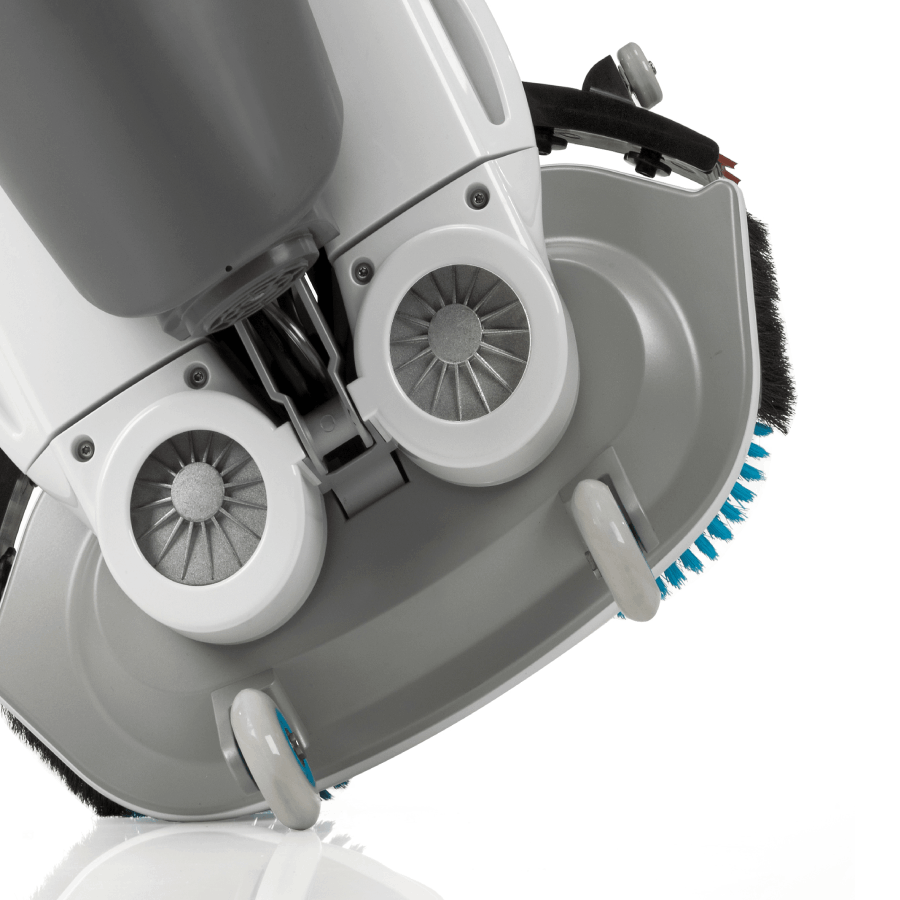 i-mop xl
i-mop xxl
i-mop benefits
Goodbye splash, scrub and sweat.
Hello i-mop.
Almost twice the cleaning power of conventional scrubbers.
i-mop xl has 96% more cleaning power than a comparable 50cm walk behind floor scrubber.
To compare the cleaning power of a floor scrubber, take the kg's of pressure on the brushes and multiply it by the revolutions per minute (rpm). This theoretical comparison on cleaning effectiveness is based on like for like "regular" brush stiffness.
Clean 70% faster. Dry in seconds.
The i-mop is proven to clean up to 70% faster than traditional mops and 30% faster than auto scrubbers.
Our innovative floor scrubber dryer, the i-mop, navigates obstacles smoothly, so you can drop manual mopping entirely, making your floors cleaner and lowering your overall cleaning costs.
Equipment that lasts with support you'll love.
With a 1-year warranty on the i-mop XL motor and all batteries, your new cleaning machine is built to last. If anything does go wrong, get warranty support over the phone from our locally-based team.
As easy to learn as it is to use with i-mop training.
The i-mop is cleaning reimagined: the easier way to clean that makes your business look good.
The i-mop is fully kitted out with revolutionary innovations and intuitive design, meaning staff training takes just minutes. To see for yourself, book a demo.
What does
REAL clean

look like?

The i-mop is a true original of innovation. All the power of an industrial scrubber dryer in a lightweight, agile and upright body.
Removes 97% of dirt
Standard mopping methods remove as little as 30-40% of dirt, swishing the rest around. The i-mop cleans has a proven dirt removal rating of over 97% — you can even test it for yourself.
No more slippery floors
Traditional mops leave floors slippery; a significant safety risk for staff and customers. The i-mop powerfully scrubs floors clean and leaves them dry and ready to walk on within seconds.
Easy on the environment
Automated dosing reduces water use by up to 75% compared to traditional scrubbers. Simple parts replacement, fewer chemicals and less energy all help save you and the environment.
Find the right i-mop

model for you
Applications
Hard floor types (porcelain tiles, natural stone, timber, vinyl, non-slip floors)
Hard floor types (porcelain tiles, natural stone, timber, vinyl, non-slip floors)
Hard floor types (porcelain tiles, natural stone, timber, vinyl, non-slip floors)
Performance
Theoretical Performance
up to 1400m² ph
Theoretical Performance
up to 1800m² ph
Theoretical Performance
up to 2300m² ph
Practical Performance
700 - 1000m² ph
Practical Performance
1000 - 1300m² ph
Practical Performance
1200 - 1800 m²
Brush Specs
500 RPM brush speed
350 RPM brush speed
350 RPM brush speed
13 kg brush pressure
22.5kg brush pressure
32kg brush pressure
Size & Weight
34 x 43 x 120cm (l x w x h)
50 x 38 x 120cm (l x w x h)
43 x 69 x 124cm (l x w x h)
11.5kg weight (without batteries)
18.5kg weight (without batteries)
21kg weight (without batteries)
Battery
45 minutes run time
60-70 mins run time
60mins run time
6 hours charge time
5-6 hours charge time
1 hour charge time
Join the movement

that's changing what clean means.

Be part of a cleaner world. Get a live demo at a time that suits you.

Get in Touch